Getting your detailed event data through event management APIs
When you have specific needs or when you need to integrate up-to-date event data with your own custom website or mobile app, you can use Grenadine event management APIs.
Grenadine event management APIs offer:
The ability to use Grenadine event data as building blocks in your own solution
Two-way programmatic access to event schedules, attendee information, and registration data
Easy integration using industry-standard JSON web services
Fast response times using CDN and cached data feeds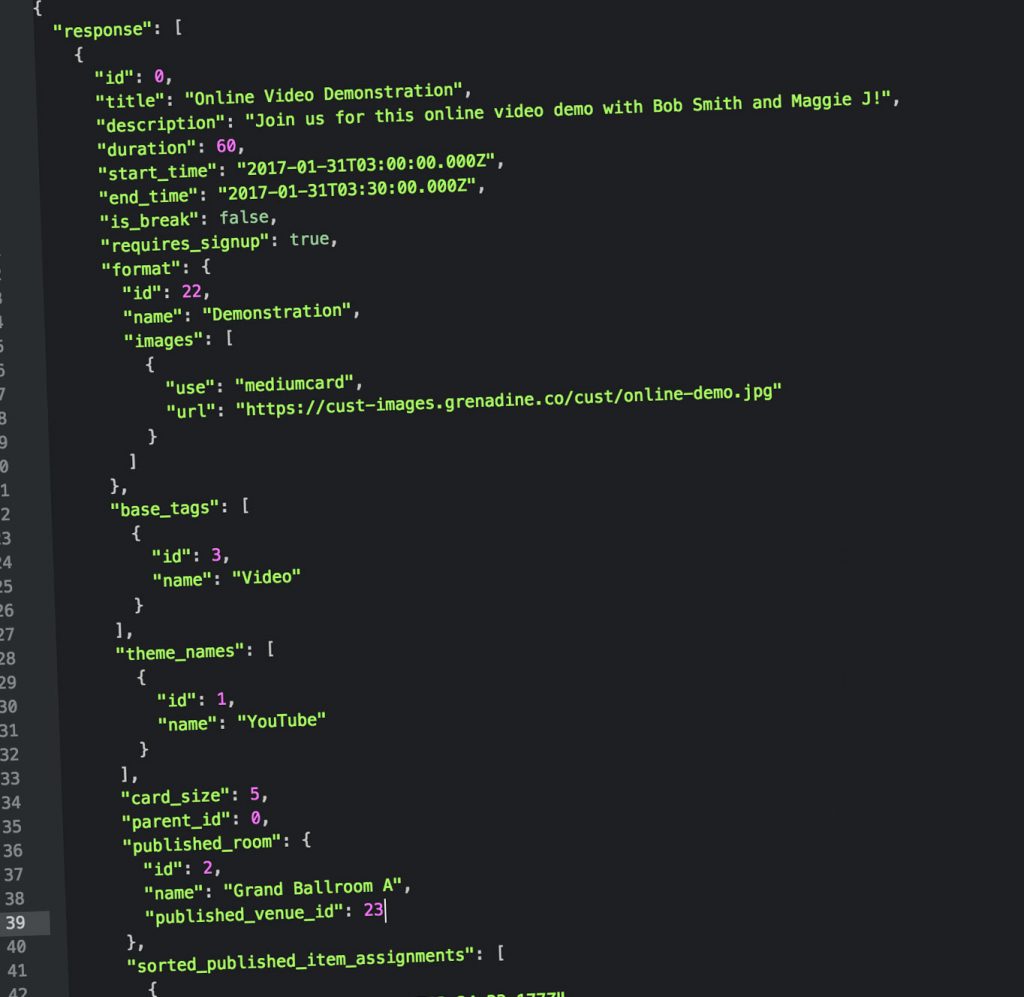 What are event management APIs?
Sometimes, advanced users and customers with specific branding requirements have their own websites, mobile application or custom 3rd-party systems that contain or need to display event information. Some customers also have very specific requirements that are not covered by off-the-shelf event websites and mobile apps offered by Grenadine.
For those case, Grenadine offers a complete suite of event data APIs which can be used by your developers to retrieve and send event data back and forth between Grenadine Event Planner and your custom system. Because Grenadine offers a "set once and publish everywhere" model to event data management, all data published by APIs are always up-to-date and supply the exact same information as that displayed on Grenadine event websites and Grenadine event guide mobile apps.
If you have some systems and want to also use some Grenadine systems at the same time, you can do so and you won't have to worry about having any data out of sync. Regardless of how you and your attendees access your event data, it will always be fresh and up-to-date!
Clear event API documentation
All Grenadine Event Planning APIs are clearly documented using human-friendly Swagger UI. Your development team will be able to visualize and interact with the Grenadine event APIs before they event start coding your custom website or mobile app. This makes experimentation and implementation easy and quick.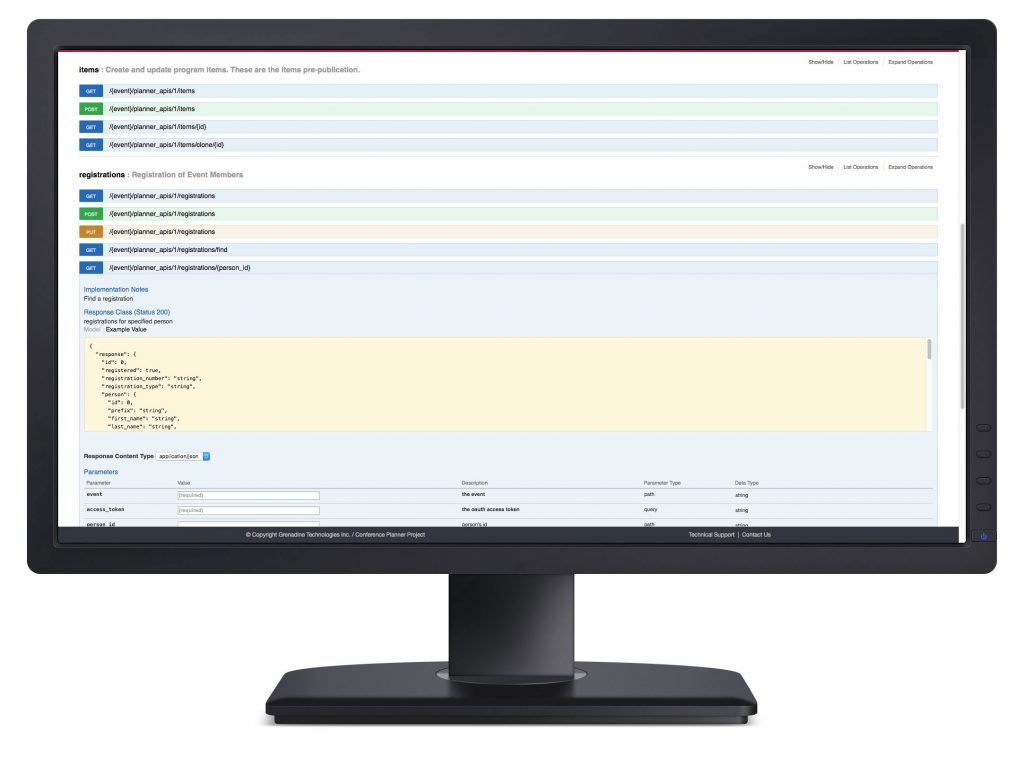 Some Grenadine Event APIs
Events
Get a list of all events for your organization
Create a new event within your Grenadine event planning system
Get full details for one specific event
Update details of one specific event
Venues and rooms
Get a list of all venues and associated room names used in your event
Get full details (including postal address and geo-location codes) for a specific venue in your event
Get a list of all rooms used in your event, along with their use status
Get full details for specific rooms used during your event, event their presentation sort-order
Sessions
Get a list of all sessions on your event's program calendar
Create a new session within your event's program calendar
Get full details for one specific session on your event's program calendar
Deep clone (make a full copy) of a specific session on your event's program calendar
Get lists of all published (i.e. publicly-viewable) sessions in your event
Get full details for specific published sessions in your event
Registration
Get a list of all people registered for your event
Register a person to your event
Update registration details for a person who is already registered to your event
Find a person who is registered to your event (by name, registration number, email, etc.)
Get full registration details for one person who is registered for your event
Delete registration information for one or more people
People
Get a full list of all people related to your event (including non-registered people, such as speakers and sponsors)
Get partial, filtered lists of people related to your event
Find specific people and get their detailed assignment details (speaking schedule)
Formats
Get the list of formats used in your event's schedule. Formats can include things like "Demonstration", "Presentation", "Talk", "Workshop", etc.
Get details for specific formats used in your event's schedule
Tags
Get the list of all tags used to tag program items in your event (tags represent subject-matter areas)
Get full details for specific tags used by your event's program items
Themes / Tracks / Categories
Get the list of all themes or tracks used in your event's schedule
Get full details for specific themes or tracks used to classify items in your event's schedule
Organizations
Get a list of all organizations (suppliers, sponsors, partners, exhibitors) related to your event
Get full details for a specific organization in your event