Event Management specifically tailored to todays businesses
Grenadine, a suit of software tools and features specifically designed to surpass the event management needs of todays businesses and their business units. Business units can manage and organize events with the industry leading all-in-one professional event planning software from their own environment and user logins, while retaining central control over shared branding, domain name, payment platform, login provider, email servers and tax management.
Grenadine provides the ability for businesses to centrally support and assist each business unit while also allowing for their autonomy. The perfect balance for your teams, your participants and your bottom line, be it for In-Person, Virtual or Hybrid events, Grenadine will simplify your day.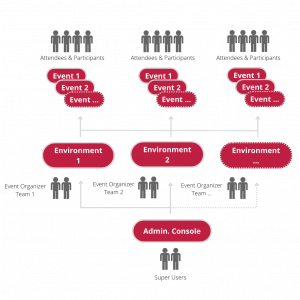 Benefits
Unlimited Events
Unlimited Users
Unlimited Ticket Types
Use your existing domain name
Event Website automatically generated for each event
e-mails via your corporate domain
Mobile App showcasing all your events
Integrated with your payment gateways
Complete overview of all events you produce
Integrated with your login providers
Data management acrost all events
Consistent branding over all events
Support and technical assistance