Connecting your Audience
With Grenadine Event Software creating your events mobile app on iOS and Android is achieved with a single click. As all Grenadine products, device optimization and configuration is automatic, NO development skills required.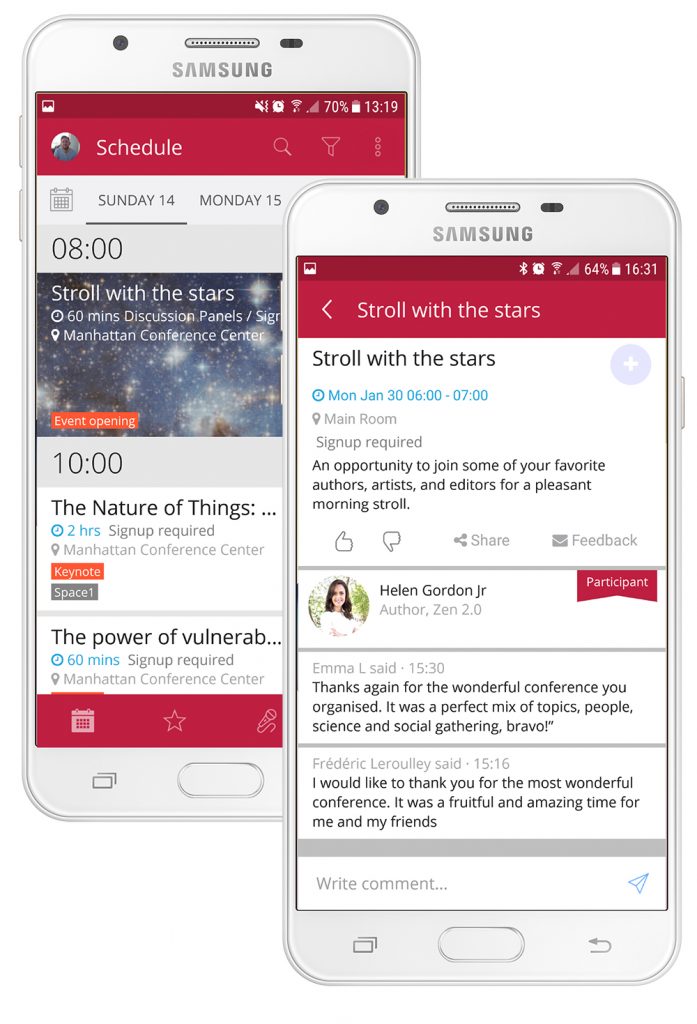 Features
The impressive features and capabilities will Simplify Your Day! Always in real time, with event info, push notifications, event and personalized schedules, speaker listing with bios, public or private profiles, matchmaking, attendee to attendee messaging, e-Ticketing, paperless event access, sponsor listings, smart personalized recommendations based on personal interests, etc., etc., etc.
Networking
The connections made by those at your event can bring a tremendous amount of value for all participants. The ease with which your people connect and network will significantly impact the overall success of your event. Grenadine Event Guide AI component points participants in the direction of sessions, content and people that will provide added value to their experience and potentially increase engagement and time spent at your event.
Schedules and Content
Fully customizable content are published and updated in real-time. Participants can search and review speaker bios, schedules, attached documents, public participant profiles (Event, LinkedIn and Facebook), local restaurant, attractions, maps or any customized content deemed relevant to your event and sync choices to their calendar instantly.