Build your event schedule
The schedule builder is one of the core tools in the Grenadine Event Planning system. Sessions represent all items that are scheduled at your event, such as presentations, panels, interviews, talks, workshops, parties, games, screenings, etc. In schedule builder, planners enter sessions with specific details for each.

Typical Session Characteristics
A session title and short title
A full description for the automatically generated Event Mobile App and Event Website
Venue and allocated room with capacity
Start time and duration
Private notes for organizing staff
Notes to share with participates
Session format
The room setup requirements
Private or Public
The number of Presenters
The estimated audience size
The card size for digital display on Event Mobile App
Organizers can also list special requirements and additional information for each session, designate tags or keywords to assist in searches, determine equipment requirements (AV, internet access, laptops, whiteboards, etc.) and establish images for display on Website and Event Guide Mobile apps such as a headshot, logo or sponsorship info.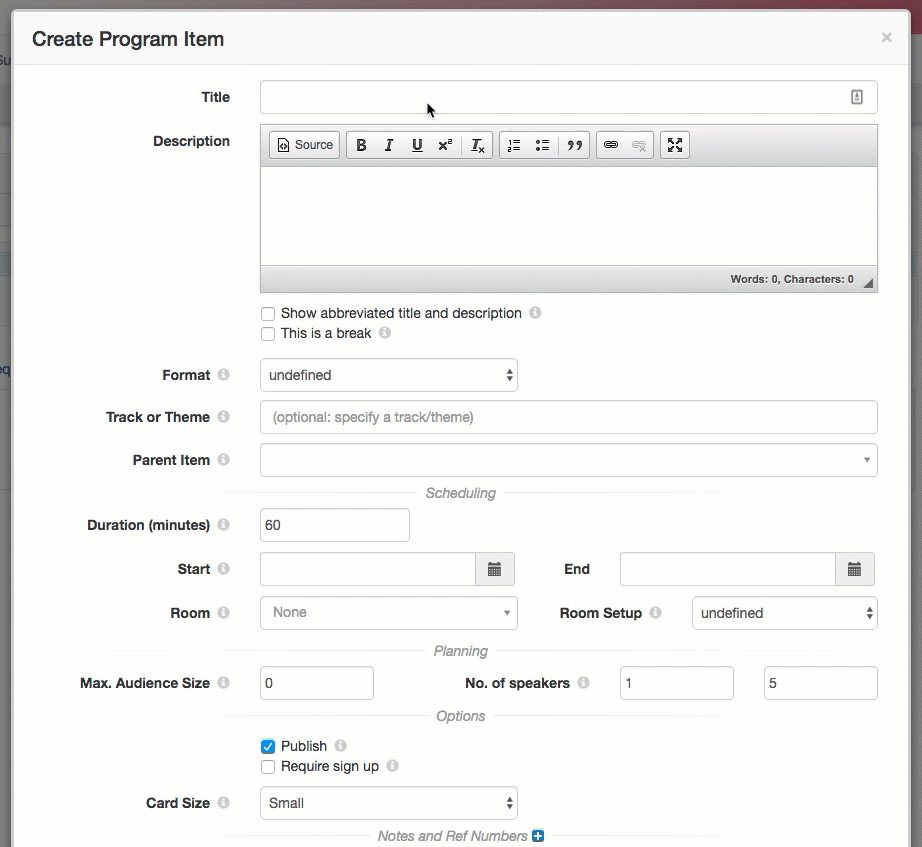 Tracks and themes
To assist users in finding sessions of interest, Grenadine facilitates the use of tracks or themes to tag each session with one or more track and/or theme. Visible definitions, colour coding and the ability to filter allows for guests to easily find, follow and purchase according to their interest.
Limited-availability events
For limited capacity or special considerations Grenadine allows you to specify the capacity, a wait-list or not, and maximum number on each wait-list for any event in your calendar .
Attendees may sign up for all events, including limited-availability sessions through your Grenadine Mobile Event App, your Grenadine Instant Event Website, or by the organizer. Any registration activity or wait-list status change automatically updates individual schedules and sends confirmation to affected participant.
Poster and Sub-sessions
Some academic and research-oriented events have special presentations where multiple speakers each take turns presenting their subject matter, and then join the audience and continue to attend while other presenters take their turn. Grenadine Event Planner addresses these requirements and offers a distinct poster session solution.

Scheduling conflict resolution
The Grenadine Event Planning solution provides for the full scheduling of activities on a venue, timeslot and room basis for a single or multiple venue event. The software identifies scheduling conflicts and facilitates their resolution.
All scheduled sessions and presentations are listed on a visual calendar and conference planners can re-schedule and change sessions by simple drag-and-drop action.
Within the powerful scheduling module, the Grenadine Planner System looks through all of your people, events and rooms to determine if conflicts exist. Should the powerful tool find a conflict, it reacts swiftly to assist in its resolution.