Build your event schedule
The schedule module is one of the core conference planning modules in the Grenadine Event Planning system. Sessions represent all "items" that are scheduled at your conference, such as presentations, panels, interviews, talks, workshops, parties, games, screenings, etc. In the schedule module, planners enter each session and specify details for those sessions.

Sessions may have the following characteristics:
A session title and a short title
A full description for display in the event mobile apps and printed programs
The room and venue where the session will take place
The start time and duration
Private notes for use by the conference organizing staff
Notes to share with the people participating on the session
The format of the session, such as presentation, panel, party, etc.
The room setup that is required for that session, for example "theatre style room" or "large round tables"
Whether the session should be printed in the program or not (you can set some sessions private for things such as staff meetings)
The minimum number of participants (presenters) required for that session, and the maximum permissible
The estimated audience size, for assisting in room planning
The card size to display in the event mobile apps (events can use larger or more colourful cards to promote or otherwise emphasize certain events or presentations)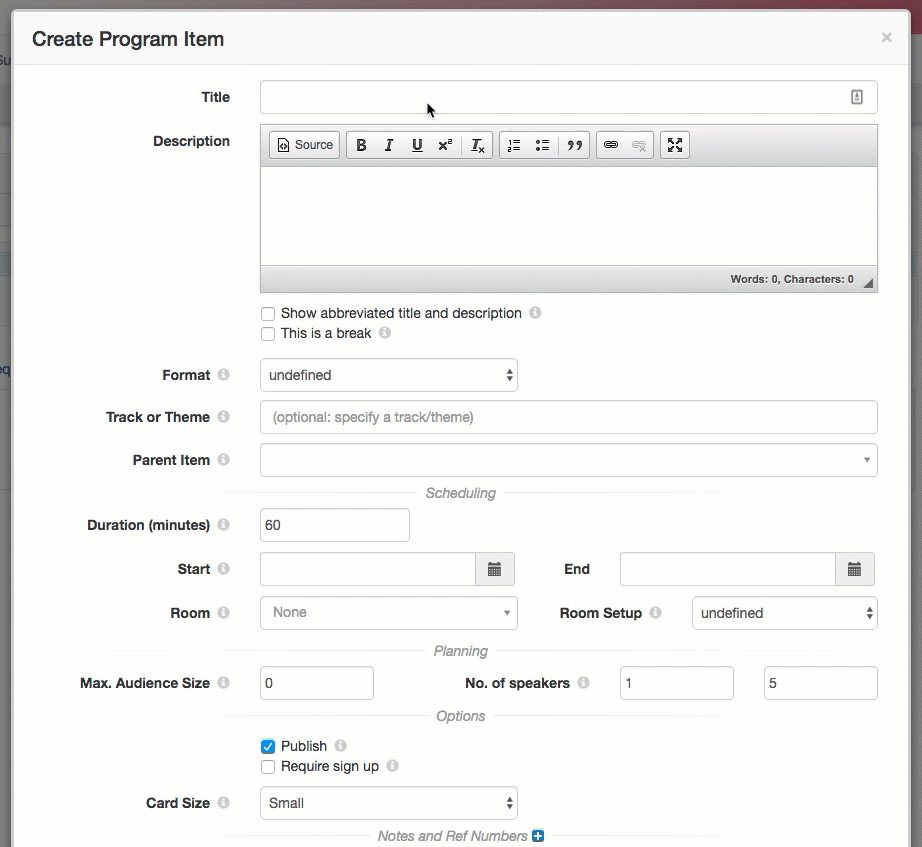 Once all session details have been specified, organizers can then list special requirements and extra information for each session. These can include:
What equipment are required for the session, such as a projector, speakers, and microphones, internet access, laptops, whiteboards, flip charts, etc.
What "tags" or keywords relate to that session (to assist users in searching and classifying sessions)
Any images that will be used and displayed in the session cards in the event mobile apps. Such images can include the logo of a speaker's employer, for example, or a headshot of the main speaker.
The Grenadine Event Planner will use these requirements to assist organizers later on in making sure that all required equipment are planned for and provided at the proper time and place.
Tracks and themes
To assist users in finding program sessions that interest them, you can use "tracks" or "themes" and tag each session with one or more track or theme. Tracks are colour coded and filterable so that your guests can see things that interest them. They are especially useful for large events where sheer program size makes finding one's way around interest areas can be difficult.
Limited-availability events
Sometimes during your event, some sessions have limited availability or special considerations for the total number of guests that you can accept. And sometimes you simply want to gather registration lists to know who attended what. For those sessions, Grenadine Event Planner allows you to specify, for any event in your calendar:
If the event is limited capacity (and therefore requires registration) or not
What is the maximum capacity (number of people) that you accept for this event
If you will also accept a wait-list or not, and in the case where you do, what is the maximum number of people that you are willing to accept on the wait list
For all limited-availability sessions, attendees can sign-up to attend on the Grenadine mobile apps, through the Grenadine Instant Event Website, or can be signed up by you through the planner. All registrations and de-registrations, as well as wait-list sign-ups, are confirmed to each attendee by email and added to their personal schedule.
Sub-sessions
Some academic and research-oriented events have special presentations where multiple speakers each take turns presenting their subject matter, and then join the audience and continue to attend while other presenters take their turn. These sessions are sometimes called "seminars" or "sessions".
Grenadine Event Planner addresses scheduling requirements similar to these by letting you designate "parent" and "child" sessions. A child session has a specific speaker and time, but happens within the same global time and room of the parent session.
Poster sessions
Poster sessions usually are presented in larger rooms where multiple speakers each have their stand and "poster" with which they can present their subject matter to attendees wandering in the room.
Grenadine also addresses poster session scheduling requirements by using the parent-child scheduling facility discussed above.
Plan your schedule and get help identifying scheduling conflicts
The Grenadine Event Planning solution provides for the full scheduling of activities on a venue, timeslot and room basis for single or multiple venue activities. The software allows the timely identification of scheduling conflicts and facilitates their resolution.
All scheduled sessions and presentations are listed on a visual calendar and conference planners can re-schedule and change sessions by simple drag-and-drop actions. In addition to visual display, each scheduling conflict is identified by the Grenadine Event Planning tool so that organizers may resolve them quickly.

Within the scheduling module, the Grenadine Planner System looks through all of your people, events and rooms to help you see if scheduling conflicts exist. Scheduling conflicts can include:
Participants (presenters) that were double-booked, meaning that they have been booked for presenting or participating on more than one session at the same time
Room conflicts, meaning rooms that have been assigned more than one event at the same time or with overlapping start and end times
Session conflicts, meaning sessions that have been planned but do not take into account various constraints that have been requested by conference participants. For example, a participant may have requested that they would not like to be scheduled at same time as a keynote presentation.
Times constraints conflicts, meaning conflicts that arise from your scheduling and that conflict with participant availability. For example, a participant may have requested not to be booked on a Friday morning, and subsequent scheduling activities have moved a session on which she participates on that time slot.
Availability conflicts, meaning conflicts resulting from participant availability. These are similar to time constraints conflicts, these are driven by participants arrival and departure times at the conference.
Back-to-back scheduling conflicts, meaning conflicts that relate to "tight" scheduling. For example, you may have booked a speaker from 9hAM to 10hAM, and then from 10h15AM to 11h30AM. Although technically possible, this booking may be too tight to be realistic, and the participant may not have time to get to his second presentation on time. In cases like these, back-to-back scheduling situations will be identified by the Conference Planner so that you may at least be aware of them and react accordingly.
Visual conference scheduling and scheduling conflicts management is a powerful tool within the Grenadine Event Planning system and will assist organizers to identify and react to conflicts quickly and without the need to carry out extensive manual research.