All you need for paid and free registrations
From space-limited program item sign-ups to a full event registration, we offer the flexibility to meet your requirements.
With Grenadine Event Planner, you can sell tickets for your event or distribute free tickets to your prospective attendees. Tickets can be sold in the currency of your choice, provided that the payment provider supports it. You can set up your own ticket types by specifying things such as availability start date, maximum number of tickets available, ticket type and minimum or maximum purchase requirements.

If you need to collect extra information at registration time, such as a person's meal preference, availability, or special requirements, you can use registration forms and ask questions for each ticket holder.
When tickets are offered for sale to your attendees, Grenadine Event Planner charges a per-ticket fee (see our pricing plans) which can be passed on to the ticket purchaser, or absorbed within your ticket price. If your tickets are offered for free, Grenadine doesn't charge any ticket processing fee. The Grenadine ticket fee is separate from any payment processing fee that the payment gateway will charge.
Paid registrations and tickets
You can sell paid tickets and accept credit card payments from VISA, MasterCard and other credit cards (depending on your location) with the help of Grenadine Event Planner. All ticket payments are collected through your Stripe.com payment processor account or your Paypal.com account, and proceeds are deposited directly into your account right at the moment of sale.
When you sell event or conference tickets through Grenadine, your purchaser will need to pay a per-ticket processing fee. As an option, you can decide to absorb that fee yourself as a portion of the final ticket price.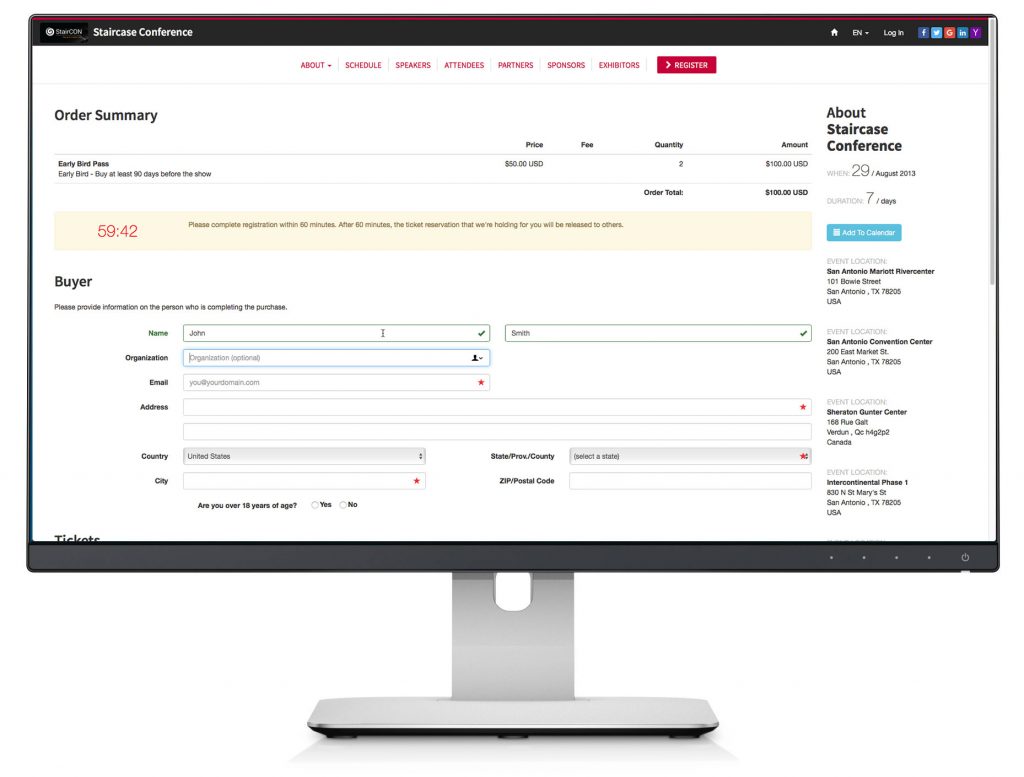 Collected information and registration forms
When you sell an event ticket through Grenadine Event Planner, we ask the following information from each of your ticket purchasers:
Full name
Company name (optional)
Street Address, including country and state
email address
In addition, because one purchaser can purchase tickets for more than one ticket holder, we require name and email address from each ticket holder.
If you need to collect extra information at registration time, such as a person's meal preference, availability, or special requirements, you can use registration forms and ask questions for each ticket holder.
As an example, you can ask questions like:
Meal preferences (vegetarian, vegan, etc.)
Special needs requirements (handicap access, etc.)
Service requirements (do you need babysitting/childcare?)
Membership information (association membership number, membership status, etc.)
Consent information (do you have parental consent?)
Interests (i.e. what activities are you interested in?)
…and any other question that you feel you need to ask at registration time.
Free tickets
If your event is free, or if some groups of people can attend your event for free, you can set up free ticket types within Grenadine Event Planner. Free tickets have the same options as paid tickets, except that they are free and don't require the very last checkout step (the payment). With free tickets, you can:
Collect the same information as you can for paid tickets (name, address, etc.)
Ask extra questions through the use of registration forms
Set availability start and end dates
Limit the number of free tickets available
Because free tickets behave in the same way as paid tickets, every registered person will receive a printable ticket with a barcode and QR code. Every registered person will also be able to fully access the Grenadine participant portal, which lets a participant manage their information and share their profile publicly (if they so choose).
Free tickets = no fee!
When you use Grenadine for free tickets, there is no per-ticket processing fee. If you have a combination of free and paid tickets for your event, they Grenadine only charges processing fees for the paid ticket portions.
Item-specific and add-on tickets for your event
Item-specific tickets are those that register a person not for your entire event (conference, convention, etc.) but rather for something very specific on the calendar of your event. For example, if you have a post-conference activity, a VIP party, a golf tournament, or a special class that requires a paid ticket over and above registration for your overall event, you can sell an add-on ticket and tie those tickets directly to a calendar item on your event program.
Everyone who purchases an add-on ticket does so for a specific activity on your schedule.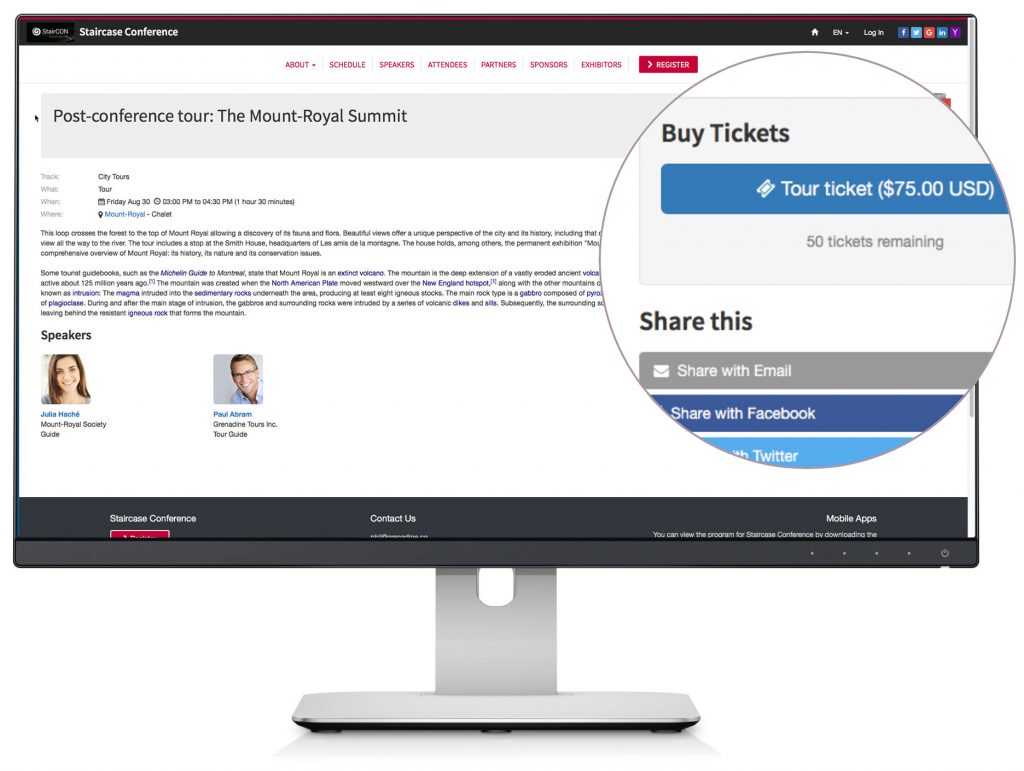 What's the difference between just calling a ticket "Ticket for the post-conference tour" and selling a true item-specific ticket within Grenadine? When you sell a true item-specific ticket from Grenadine, we check availability, capacity, and we report any scheduling conflicts for rooms, speakers, and even scheduling conflicts for attendees.
Moreover, because we know an attendee's schedule in full detail, we can prevent an attendee from registering to two separate things that happen at the same time, thus reducing the number of errors in bookings and their associated cancellations or refunds.
Limiting add-on ticket spaces
Using Grenadine Event Planner, you can sell tickets to space-limited or add-on activities within your event while limiting space. Specify a maximum audience size for each activity, and Grenadine will enforce maximum attendance regardless of ticket types.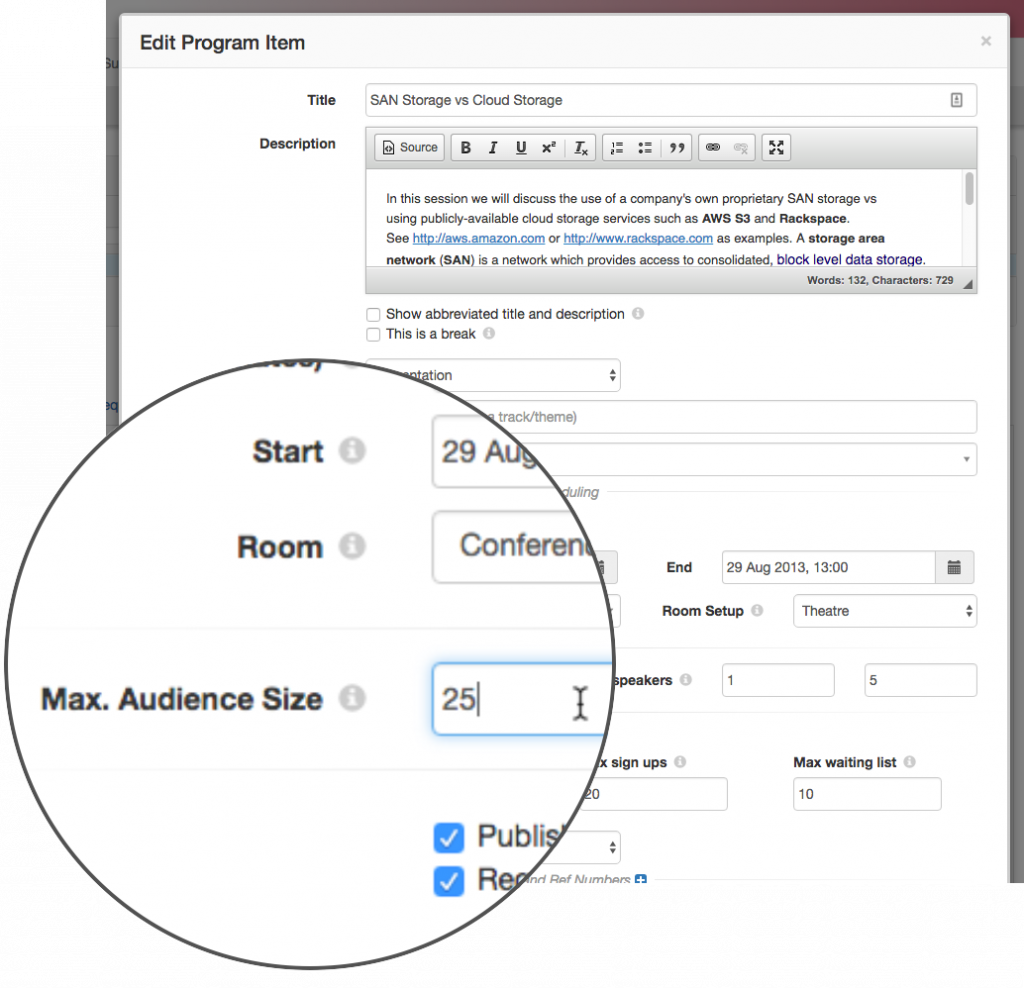 Signups and wait lists for space-limited items
Some events, such as conferences or seminars, have some activities or calendar items which are limited in space and can only accept a certain number of attendees. Even though these activities may be free, you can require that people sign up and put their name on a list before they can attend.
For those items, Grenadine Event Planner offers item signups.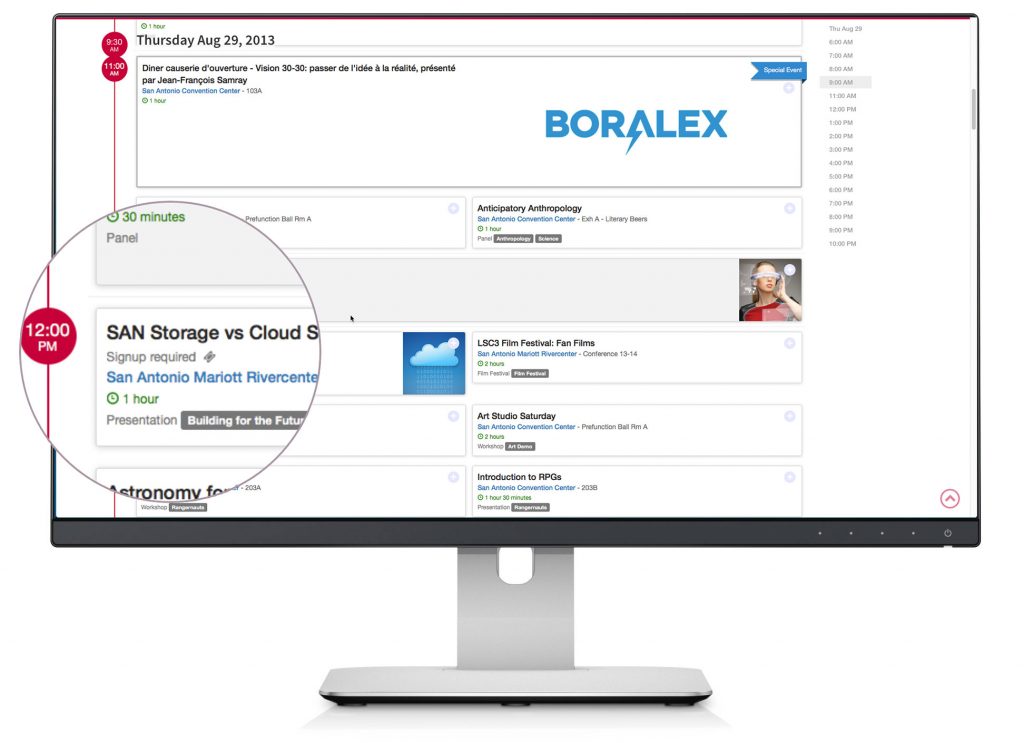 Item signups are a way of requiring that people sign up before they can attend. When you require item signups, you set a maximum capacity (for example 50 people) and people will sign up on a first-come-first-served basis. When a person signs up, he gets a confirmation email to that effect, and the item also appears on his personal schedule.
Of course, as an event organizer, you can also choose to sign guests up on their behalf.

Waitlists
When you have very popular items, you can even set waitlists. All attendees that try to sign up for an item that doesn't have any more space but still has space on the waitlist will be put on the waitlist. Waitlisted attendees will be listed on a first-come-first-served basis (just like actual signups) and will be notified if and when space becomes available.
Waitlists can also be useful when you are not sure if specific activities will be offered during your event. You can set "tentative" with no confirmed capacity, but where people can sign up for waitlists. If the item becomes confirmed, you simply increase the item capacity from 0 to whatever you can handle, and all waitlisted guests will automatically be moved to the registered list, up to the newly confirmed capacity of your item.