We wrapped up 2018 with some important updates to make Grenadine Event Management Software meet your needs above and beyond. As we go into 2019 we are looking forward to being the most dynamic Event Management Software there is. Continue reading to see the improvements we made in December.
Features
Event Manager
We have added a new configuration option to enable and disable Ticketless Signups on the event website and mobile app.
A new "Contacts" API endpoint for upcoming mobile app release has been added.
We now allow setting a custom from email for the Grenadine Mailer when this feature is enabled.
Improvements
Event Manager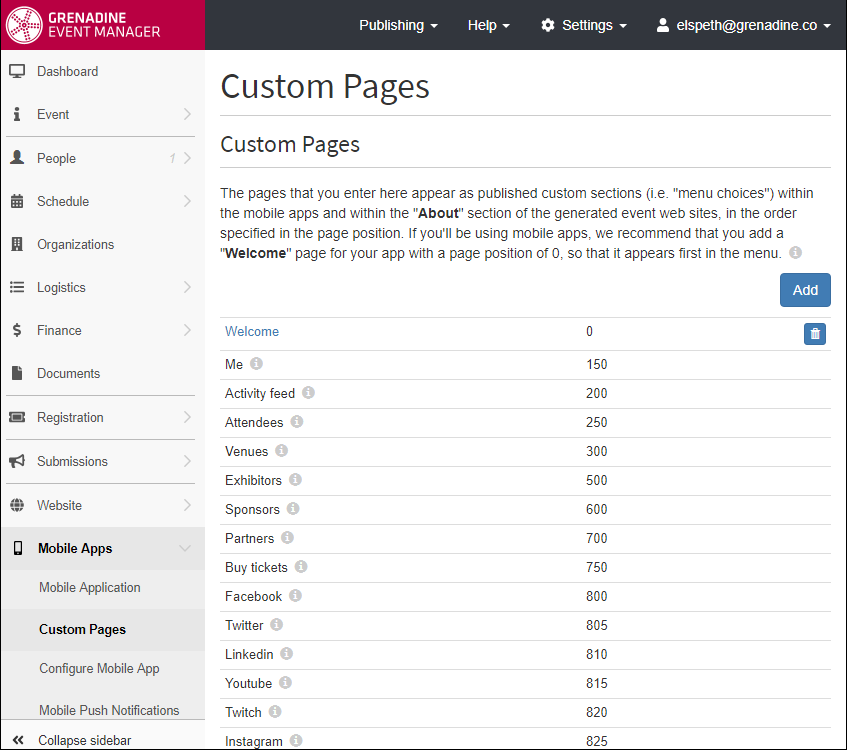 The list of built-in mobile pages has been updated, as shown above.
Organizations, Orders, and Tickets tables have bee updated to our new grid.
Added link to mobile app info page to all rows of the event list.
Event Websites
With improved load times Grenadine is faster than ever.
We have configured the footer to show details for custom mobile apps when available.
Clarified wording for sessions which registration has not yet opened.
Bugfixes
Event Manager
Fixed classic ticket export to includes all records, not only the first 10.
Fixed sort order for logistics reports.
Event Websites
Fixed issue logging in with an email address when there were extra spaces.