Introduction
We know conferences take a great deal of time to organize and plan. Occasionally, there will be countless opportunities to view, review, and change, over and over again. For this reason, Grenadine Planner works in draft mode until you are ready to publish to the Grenadine mobile app.
Unpublished Data
To be documented…
What is Draft Mode?
Draft mode temporarily keeps track of all of your additions, changes, and deletions but does not immediately publish them. By default, all changes you make in your event dashboard are kept in draft mode until you publish them.
Here's how to effectively use draft mode for conference plans:
Use the Event Planner to add, remove and change sessions, people, and schedules
Review your lists and schedules with your planning team
Make any other changes, as many as required

Once you are ready to publish, select Publish from the top navigation bar.

To review the changes you have made select the text highlighted with an arrow in the picture above. Upon selecting this you will be taken to the page shown below.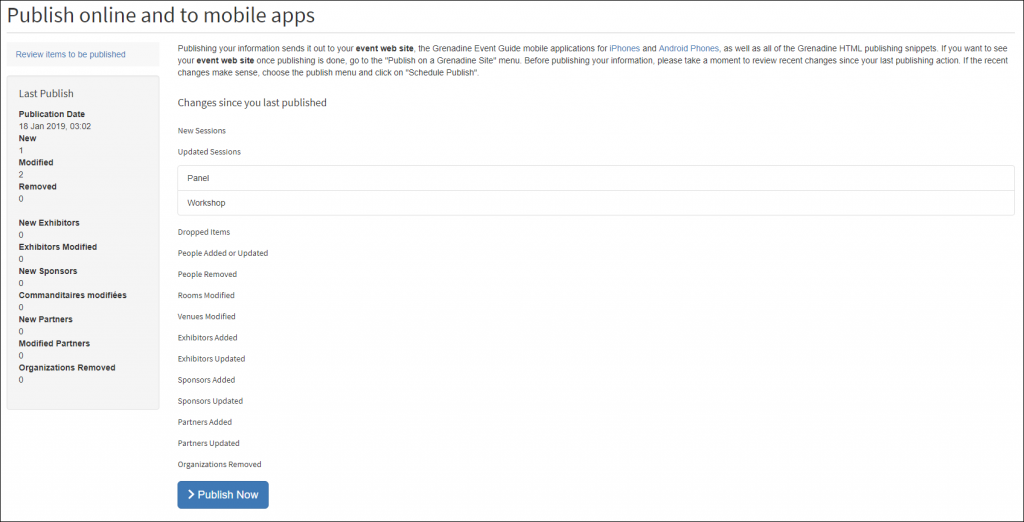 If you do not need to review your changes select Publish Now.
While the changes are being made the Publish Now will turn yellow. When the changes have been made the Publish Now will return to normal.
Hit the Publish and your conference information will go live!
That's it! All of your confirmed changes will be published within the next few minutes; making them visible to users of your websites, event mobile apps, and APIs the next time they access the system.