Introduction
Grenadine Event Management Software offers a wide variety of solutions to help you plan your events. From creating your event and customizing your event website to everything-in-between. Let's take a quick look at Grenadine's Components and how they will help you organize extraordinary events.
Grenadine Event Manager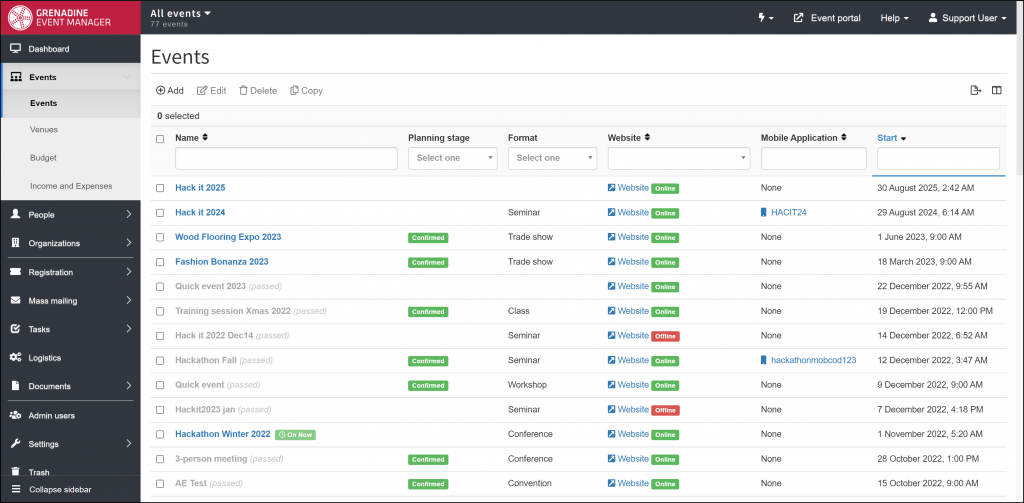 Grenadine Event Manager is the home base for your event(s): you can build and create your event(s) as well as automatically generate your event micro-website(s) and so much more. For more information on Grenadine Event Manager's capabilities, continue reading this post.
Dream Big, Plan Smart, Execute Fast!
Manage multiple events simultaneously
Build your event one step at a time, in a structured and organized manner
Pilot the full event management cycle
Manage people (participants, attendees, staff and organization representatives)
Create and Manage Event Schedules
Build simple and/or complex schedules
Identifying people or room scheduling conflicts
Always Connected with Everyone
Share people and venue data from one event to another
Gather data from attendees through session surveys
Send last-minute communications and updates using mail-merge or push notifications
Manage Event Logistics
Manage tasks and equipment requirements
Build a budget and track your finances
Grenadine Event Micro-Website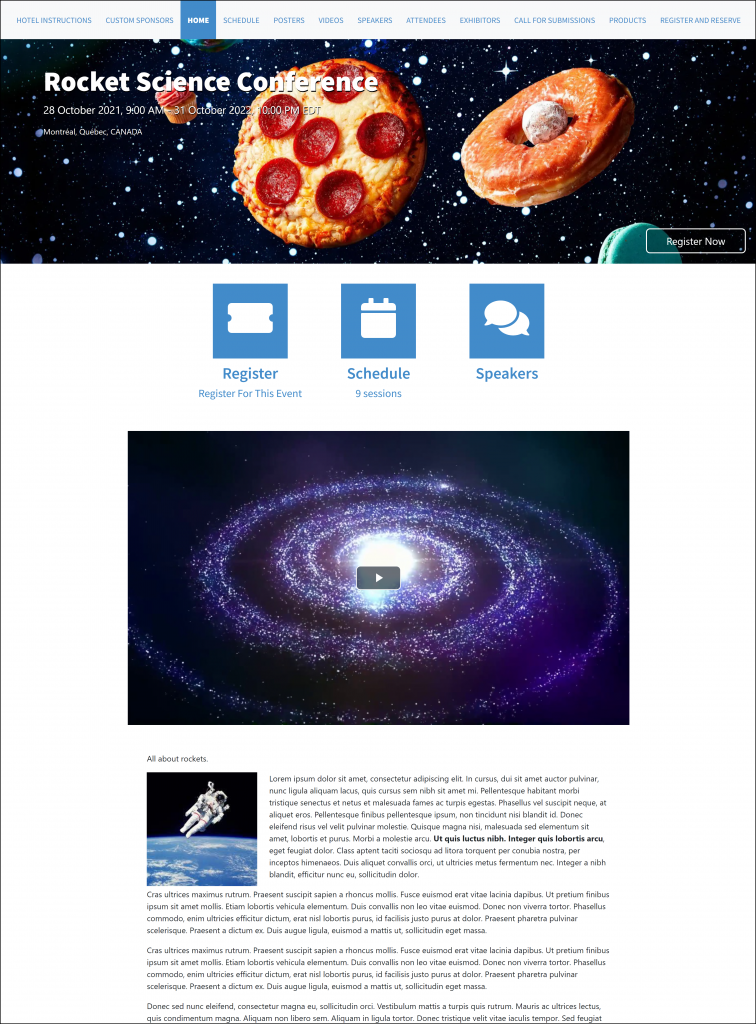 When you create an event with Grenadine, an event micro-website will be automatically generated to help you to connect with potential attendees and speakers. Continue reading this post for a quick overview.
Elegant Websites in Less Than a Minute
Automatically generated
Fully responsive
Design and contents are easily customized
Promote and Empower Your Participants
Adaptive and searchable Schedule viewer
Publish speaker profiles
Let attendees publish their profiles
Promote your partners, sponsors, and exhibitors
Let attendees and speakers chat in real time
Hold virtual sessions
Host sessions virtually using Zoom, Vimeo, Youtube, Jitsi and more
Automate attendee check-in so you can keep track of the list of attendees
Gather evaluation surveys before the end of each session
Attach documents to distribute during the virtual session
Self-serve Features
Let your attendees build their profile (photo, social networks, and bios)
Your attendees can build their schedule and buy tickets for extra events or specific sessions on your schedule
Allow your attendees to evaluate and comment on sessions
Share documents with your attendees and participants
Easy Registration
Allow free and paid tickets (with coupons)
Registration forms and messages
Grenadine Mobile App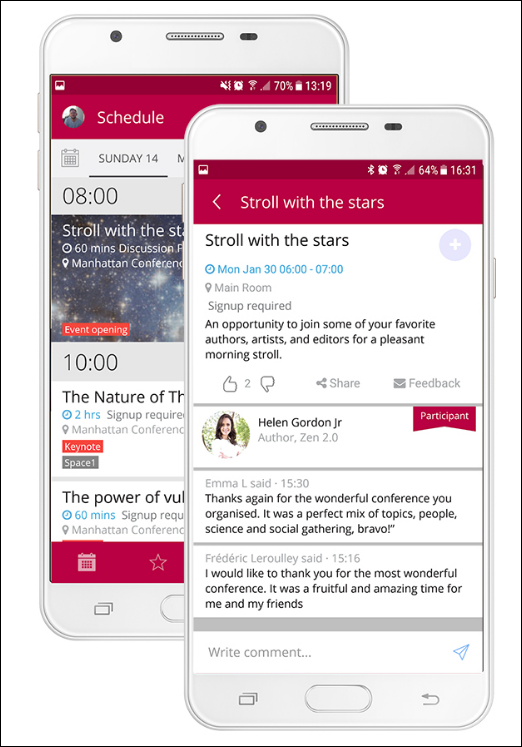 Connecting with event attendees is now more efficient than ever. The Grenadine Mobile App allows you to inform and interact with those attending your event. For a quick overview, continue reading this post to look at what our app can do.
Hassle Free Mobile Apps
Guide and connect your attendees and participants
Fully integrated with your event data right from the start. No cutting and pasting required.
Native iOS and Android apps for an optimal user experience
Digitize Your Event Further
View up-to-date schedules
View tickets
View and scan badges
Update profile (photo, social networks, and bios)
Make your personal schedule and sync it on all your devices
Search talks and presenters
Send instant push notifications
Attendees can evaluate and comment on sessions
Easy Customization
Add custom Pages to your app
Event App for Event Planners
Use a mobile app to manage event check-in and check-out
Grenadine Registration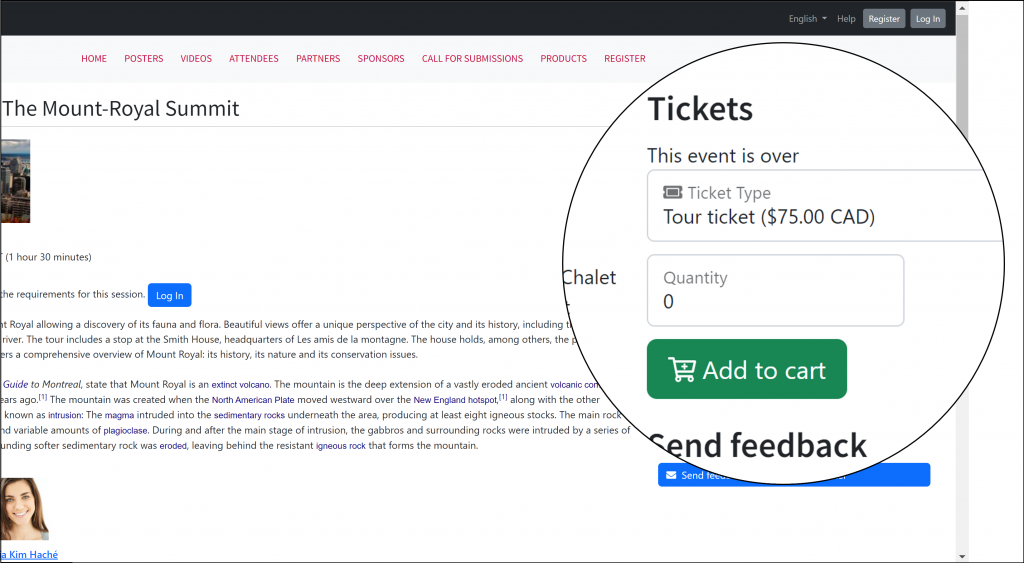 Attendees can register for your event using your Grenadine Event Website. Registration uses social-networking platform log-ins to make it even easier for attendees to sign-in. Below is a list of the ways Grenadine Event Websites can help you out.
Event Management APIs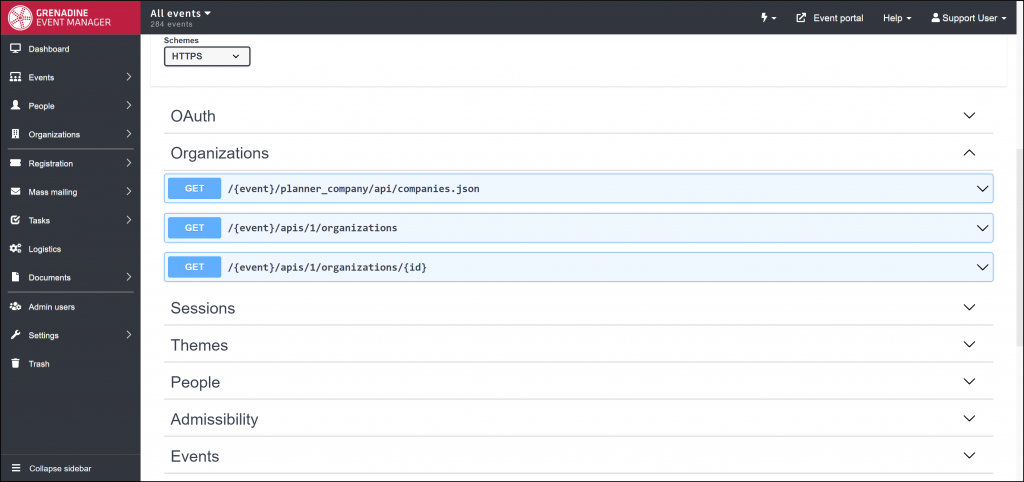 Advanced users are able to use this feature to build custom websites and more!
Extensive JSON APIs for deep integration
Integrate or build your custom event website by using Grenadine APIs as building blocks
Two-way programmatic access to program data, attendee data, and event registration data
Easy integration with industry-standard, secured JSON web services
Fast response times for your attendees with cached data and CDN-served images
Call for Submissions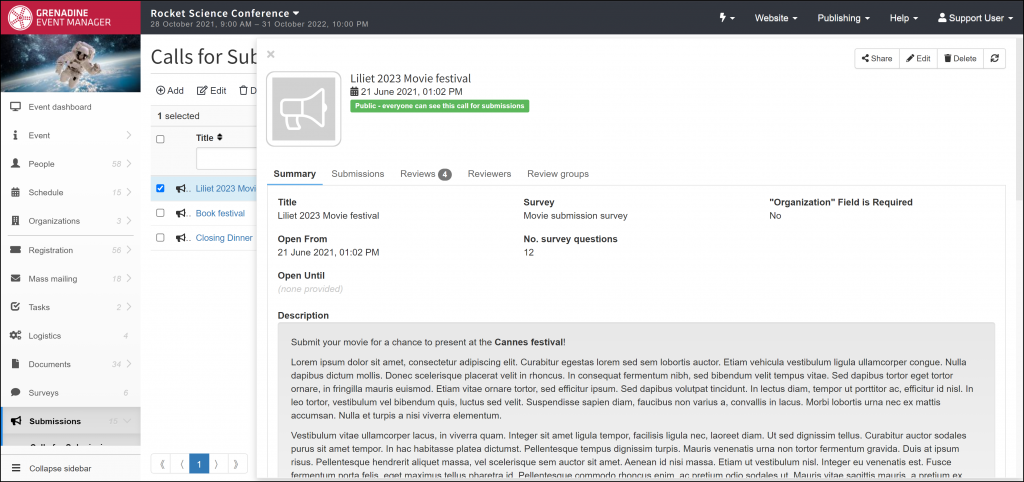 Receive submissions from potential event speakers with our Call for Submission feature. This feature allows you to survey potential speakers by asking important questions, as well as allowing them to submit the work they wish to present at your event.
Create a submissions survey to ask those submitting pertinent questions about their involvement in your event.
Create a call for submissions by defining the overall parameters for your call for submissions, such as title, open date, close date, special instructions, etc.
Publish your call for submissions and send invitations to submit, if applicable. In this step, you publish your submission forms and invite people to submit.
Receive submissions in one convenient place to view them in an organized manner.
Review submissions and assign team members to help. In this step, you are able to review, accept, and reject each of the submissions you have collected.